Mary Solberg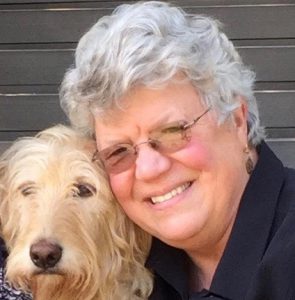 When I discovered stained glass more than a decade ago, I discovered myself as an artist, too. There's nothing about making stained glass that I don't enjoy: from imagining how something I see—a landscape, a building, a bowl of fruit…anything, really—would look in stained glass, to choosing the glass to work with, to foiling and soldering and polishing the pieces that bring something new and wonderful into being! That my work can bring joy to others multiplies my own pleasure in the process.
I've learned a lot about mindfulness from doing stained glass. Every part of the process requires patience, care, and attentiveness. There's no rushing—or, if there is, there's no joy, no satisfaction, no stained glass worth claiming to have created. Every deliberate and diligent step is illuminated by the hope that the result of all the steps will be a thing of beauty.
"Custom art for homes & places of work" is the "sub-title" of my stained-glass business. When clients come to me with a photo, an idea, a sketch, or just a "sense" of what they would like me to create in glass, I enjoy helping them to imagine what kind of piece will fill the bill. When we have settled on something, I set to work, confident that they will be as happy with the resulting creation as I am!
My Background

One of five children, I grew up in South Dakota, Germany, and Mexico, and have lived in New York, Chicago, El Salvador, St. Paul and finally, in St. Peter, MN. And finally again...in El Salvador. My first job after college was in book publishing. As life unfolded, I found professional challenges in social work, refugee advocacy, and humanitarian aid. During the 1980s I spent several years in El Salvador, living and working with people caught up in a brutal civil war. That experience led me to study theology, and to a vocation as a professor of religion and ethics at Gustavus Adolphus College. I retired from teaching in 2015. I love to sing (most of all, music by Bach and Brahms), have taken up the cello, and take every opportunity I get to speak either Spanish or German.